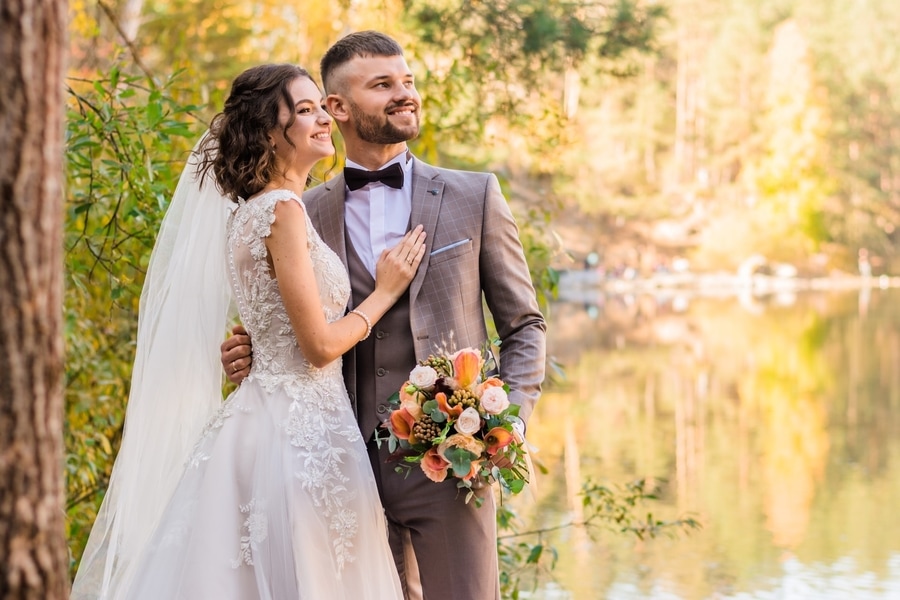 17 May

Get the Perfect Wedding Day Smile: 5 Tips for Your Big Day

While your wedding day passes by quickly, your photos will last a lifetime. Make sure that you put your best smile forward for the occasion. Taking care of your teeth now will help ensure you have the healthiest smile possible on your big day. To give you a head start, we've compiled our top five tips to get the perfect wedding day smile.

Start by practicing good oral hygiene with daily brushing and flossing. Next, schedule an appointment with us for a checkup and cleaning. While you're here, ask us about our whitening options for a radiant smile. Pay attention to the ingredients in your toothpaste and mouthwash, and be careful what you eat and drink to avoid unnecessary stains.
1. The Perfect Smile Starts at Home
Preparing for your wedding day photos begins long before your big day or even your engagement. For the best photos possible, you need to make daily oral care a priority. In doing so, you'll be ensuring that your teeth are pearly white for both your wedding day and every other day of your life.
Keeping your teeth as white as possible on your own is simpler than you may think. All it takes is regular brushing and flossing. Make sure that you're brushing your teeth for two minutes twice per day. This will help remove stains and plaque from the surface of your teeth and mouth, ensuring that they stay clean and strong.
You should also make flossing a priority. While brushing cleans the surfaces of your teeth and mouth, flossing gets the little nooks and crannies in between where bacteria likes to hide. Make sure to floss at least once a day after eating for the best results. To read more from us on the basics of good dental hygiene, click here.
You may also want to consider upgrading your toothbrush. Look for one that has:
Soft bristles
The ADA Seal of Acceptance
Timers and pressure sensors
Check out our blog on how to choose a toothbrush to learn more.
2. Pay Attention to Ingredients
It can also help to upgrade your toothpaste and mouthwash leading up to your wedding, if not permanently. According to Dr. Emanuel Lylieve, D.D.S. of the New York Center for Cosmetic Dentistry, toothpaste ingredients such as silica can do more harm than good. Instead, choose a gentle toothpaste containing kaolin or bentonite clay to help gently remove stains.
You should also ditch your alcohol-based mouthwash for something more gentle. The alcohol in mouthwash can damage dental work as well weaken your teeth in general. Dr. Lylieve recommends choosing an alcohol-free mouthwash that's also free of dyes. Check out our recent article to learn more about mouthwash, its benefits, and which one you should use. 
3. Come in for a Cleaning
No dental health regimen is complete without regular checkups with your dentist. Regular visits ensure that you're getting detailed cleanings as well as an extra set of eyes on your oral health.
Our team can help keep your teeth sparkling white while also catching small issues before they have a chance to become big problems. Contact us today to schedule your next cleaning.
4. Ask Us About Our Whitening Options
While you're here for your next appointment, make sure to ask us about our teeth whitening services. Brushing, flossing, and visiting the dentist regularly will help remove plaque and stains, but not deeply set stains. Whitening strips from the drug store can remove a few shades, but you'll want something more professional for your big day. 
At Knoxville Family Dental, you'll feel confident knowing your choice has the backing of dental professionals. Whether you want something to take home or in-office whitening, we offer a variety of solutions to suit your needs. Check out our blog on teeth whitening to help decide which option is right for you.
GLO Science Pro is our favorite tool for whiter teeth. Short for "guided light optics," GLO uses light and warming heat to activate and accelerate their hydrogen peroxide formula. We also offer a take-home GLO treatment to further accelerate your results!
We are proud to be a GLO partner dental practice. With GLO Science Pro, you'll get a whiter smile in nearly half the time. All it takes is eight sessions that last 16 to 32 minutes. The result will be a lighter shade after your first visit with little to no sensitivity and no rebounding back to a darker shade.
5. Watch What You Eat and Drink
Nutrition is essential for good health and your teeth are no exception. Not only that, but what you eat and drink can also affect the color of your teeth. Avoiding certain foods and drinks can help keep your teeth as radiant as they are healthy.
As you prepare for your wedding day, try to limit foods such as:
Tomato sauce
Soy sauce
Dark fruits
Dark berries
Deeply colored sauces like tomato and soy sauce are delicious, but they can also add major stains to your teeth. Stick to cream-based sauces like alfredo until the photos are done. Dark fruits and berries, even in pie form, can stain your teeth as well as weaken them due to their acidity. Stick to lighter-colored fruits such as pears, apples, and white grapes.
You should also be careful about what you drink. Limit drinks such as:
Tea is usually a great drink choice, but not before wedding photos. Even white and herbal teas can discolor your teeth by eating away their enamel. The same goes for white and red wine. Sodas and other carbonated drinks are full of acids and dyes which can stain your teeth and eat away at your enamel at the same time.
Get your perfect wedding day smile by following these five tips. Maintain good dental hygiene and make sure to come in for an appointment. Avoid silica and alcohol in your oral hygiene products, and make sure to ask about our teeth whitening options. Avoid foods and drinks that could stain your teeth to ensure the brightest smile possible on your big day.
Want to learn more about getting the perfect smile for your wedding photos? Schedule your appointment today!
Knoxville Family Dental has two locations in Knoxville to better serve you. You can call Knoxville West at (865) 691-1121 or you can schedule an appointment online. To make an appointment with Knoxville East, call (865) 544-1711 or make an appointment online.